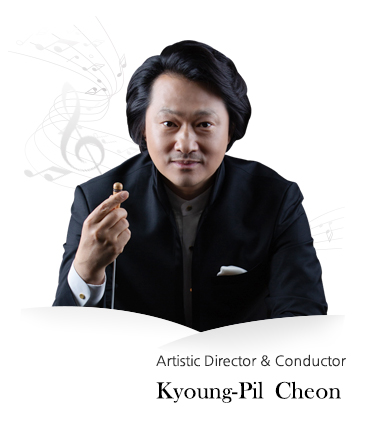 Conductor of our time presents appealing choir
with endless passion and phenomenal immersion!
Artistic Director & Conductor, Kyoung-Pil Cheon is a conductor who is imagining the sound of music and painting his conductor life with special talent and passion, and graduated and studied vocal music and chorus conducting in Giorgio Federico Ghedini National Academy of Music (G.F. GHEDINI).
In 2001, he studied under Paolo Tariciotti, who was a master conductor of Choir and Orchestra at Agent International Art (A.I. ART) in Rome, Italy, and he graduated as the best student. In 2002, he studied Choral Conducting under Alberto Motta at Gaetano Donizetti Academy (G. DONIZETTI) in Milan, Italy. Again he graduated as the best student. It led him to be recognizable in the European stage. In 2003, he studied under the Belgian National Broadcast Conductor, Heyerick Florian, and was selected as the best conductor at the same time in the top choir conducting course, which was hosted by the city of Varese in Italy. On that day, many journalists paid tribute to his outstanding performance by saying "Exceptional interpretation of Baroque music," and they began to notice this young conductor from Asia who had just debuted.
After that, he belonged to European International Agent, Associazione Arcadia, and actively conducted many opera soloists and choir performances. After returning back to Korea, he founded the Daejeon Phil Choir, which was composed mainly of vocal music majors, and challenged the new chorus music. Also, he was appointed as a conductor in the KAIST choir and he started a new chapter of college choirs for gifted students. In addition, he became interested in youth choir education and he founded Pyeungsong Boys Choir to put his effort towards youth education. In 2008, he founded Gongju Phil Harmony Choir to dedicate local music development in lagging areas. In the same year in July, he conducted as a guest conductor in Daejeon Civic Choir.
In 2009, he established the Daejeon Parish Girls and Boys Catholic Chorus and was appointed as a music director at the same time. So, he dedicated research to youth chorus music and religious music and in 2013, he was selected as chairman of the Daejeon Metropolitan Girls and Boys Chorus Conductor Federation. He is currently leading Daejeon youth chorus music very actively.
Since 2016, he has been appointed as Art Director of Daejeon Civic Youth Choir and is presenting a new model for future youth chorus music.